DonWat Houston *FREE* CPE July Lunch & Learn: On the Immigration Frontlines
July 20, 2018 @ 11:30 am

-

1:00 pm
Event Navigation
CPE Seminar Series – HOUSTON
Join us for a FREE Lunch & Learn. Attendees will earn one hour of CPE credit
Field of Study: Management Services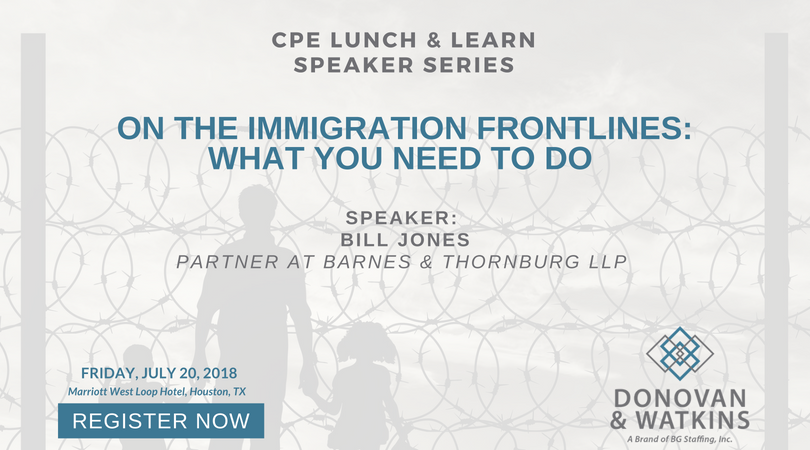 On the Immigration Frontlines: What You Need to Do
Most employers are increasingly aware that immigration violations can result in substantial civil, and even criminal, penalties. An additional consequence of those sanctions is the "bad press" that can do lasting harm to an enterprise's reputation. Dana Bucin, a partner in the firm of Murtha Cullina LLP, analyzes how the Trump administration and the Congress are likely to affect your enterprise's responsibilities for compliance with immigration laws and enforcement priorities.
Navigating workforce development in the Trump administration. It's a whole new day in Washington! Right, left or indifferent, there's an inherent fear factor in how the policies of this administration will affect your business. From a reduced regulatory environment to an enhanced focus on the energy sector and the uncertainty of tweeting, we will discuss how to navigate this turbulent & unprecedented political environment to enhance your business.
---
MODERATOR: BILL JONES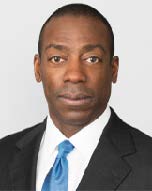 Bill Jones is a Partner at Barnes & Thornburg LLP in the Government Services and Finance Department, where he helps clients navigate significant regulatory issues before state and federal agencies working out of the firm's Dallas and Washington, D.C., offices. Formerly, Bill served as Governor Perry's General Counsel. Click here to view his full bio.
Registration is required by Wednesday, June 18th in order to participate.
Please note: We have a new and improved registration system. Please follow instructions below. If you have any questions, please contact Chandler Whitworth by email cwhitworth@donwat.com or phone 713-595-4811